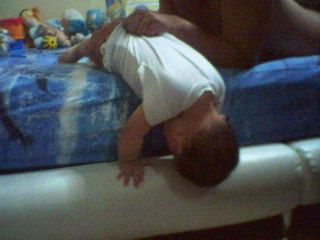 This boy is forever trying to dive off the bed.. I bet he'll make a good diver or commando in future. He's always scaling new dangers.
The baluku which he acquired last week was aggravated when he decided to test the hardiness of his forehead by banging it against the wall. The swell was about to go off, when he decided to perform that act, bringing the swell back plus a patch of blue black...
Ohh by the way, does learning how to pull out drawers considered a developmental milestone for babies? If yes then he has reached another milestone because he is starting to pull out the lower drawers under the tv rack.........